Twitter Feed
Using EAE – Twitter widgets allows you to share the tweets from your Twitter account to your website page seamlessly. Through this, you can make your website more engaging, and you can also customize various elements of the widget.
Content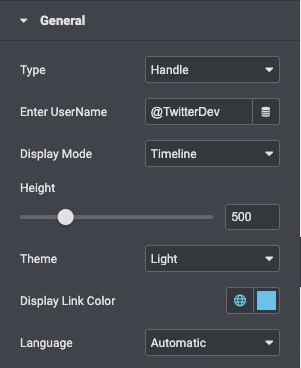 General
Type: Handle, Hashtag, Message, and Share. The options vary based on the type selected.
Enter UserName: Enter the Twitter account details to display its posts.
Display Mode: Select Timeline or Button mode timeline.

Height: Adjust the height of the widget.
Theme: Select the display theme, Light or Dark.
Display Link Color: Choose the color for the tweet text button.
Button Type: Select if you want a Follow button or the Mention button
Hide Name: Toggle it to hide the username.
Show Count: Enable it to display the count of followers.
Large Button: Enable to display the button in a larger size.

Language: Select the language for the post.